Celebrating the arrival of a new child is a wonderful occasion that reminds us of the beauty of life and the promise of new beginnings. However, finding the perfect gift for new parents can be a daunting task.

Fortunately, local florists have created a delightful baby bouquet that is guar[...]
Add To Cart
Add 8 Balloons for $42.95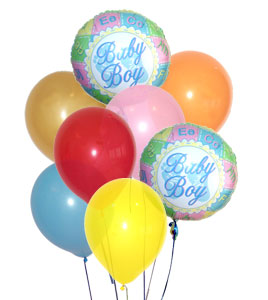 Celebrating the arrival of a new child is a wonderful occasion that reminds us of the beauty of life and the promise of new beginnings. However, finding the perfect gift for new parents can be a daunting task.

Fortunately, local florists have created a delightful baby bouquet that is guar[...]
Celebrating the arrival of a new child is a wonderful occasion that reminds us of the beauty of life and the promise of new beginnings. However, finding the perfect gift for new parents can be a daunting task.

Fortunately, local florists have created a delightful baby bouquet that is guar[...]
Celebrating the arrival of a new child is a wonderful occasion that reminds us of the beauty of life and the promise of new beginnings. However, finding the perfect gift for new parents can be a daunting task.

Fortunately, local florists have created a delightful baby bouquet that is guaranteed to warm the hearts of new parents. The Perfect Princess New Baby Bouquet is a stunning arrangement that will brighten up any nursery. It is a thoughtful gift that any parent would appreciate.

The bouquet features a charming combination of hand-picked flowers that complement each other perfectly. The pink gerbera daisies represent innocence and childhood, while the lavender roses provide a soothing scent. The pale pink double lisianthus symbolizes beauty and kindness, making it a meaningful message for new parents. The addition of pink waxflowers, burgundy button poms, and lush green leaves adds a burst of color to the arrangement.

If you want to send this lovely bouquet to new parents, you can take advantage of same-day delivery. The raspberry glass cubed vase adds an extra touch of sophistication to the arrangement. Local florists will ensure that the bouquet is delivered fresh and on time.
Item No. D6-5208
Price: $74.95